Un'immagine pubblicata in rete potrebbe aver rivelato i titoli che usciranno su Nintendo Switch.
Sul profilo Twitter di IGN France è apparsa per pochi minuti la foto che segue e, se non dovesse trattarsi di un falso, saremo di fronte all'elenco completo dei giochi in arrivo su Nintendo Switch con le rispettive date di pubblicazione.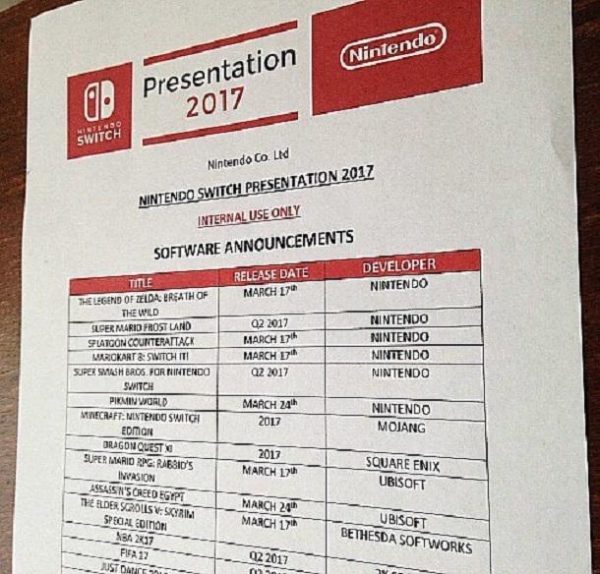 Tra i titoli in elenco spiccano The Legend of Zelda: Breath of the Wild, Skyrim e il crossover tra Mario e i Rabbids che usciranno tutti il 17 marzo, nel giorno in cui presumibilmente sarà lanciata anche la nuova console.
Poi si può notare la presenza di Dragon Quest XI in uscita entro la fine dell'anno ma, il titolo che più di tutti cattura l'attenzione è Assassin's Creed Egypt. Il fantomatico capitolo ambientato nell'antico Egitto potrebbe essere quindi un'esclusiva per Nintendo Switch e uscirà nelle prime settimane di vita della console.
Mi piacerebbe potervi dire che tutte queste informazioni siano vere ma purtroppo niente di tutto ciò che è stato confermato ufficialmente. Perciò dovremo aspettare la presentazione ufficiale di Nintendo Switch il prossimo 13 gennaio per avere la conferma o la smentita di tutte le voci riportate in questo articolo.
Quali sono le vostre aspettative per questa presentazione?