Ormai eravamo tutti certi che l'uscita dell'atteso DLC di The Witcher 3 fosse imminente, ma dopo che lo stesso negozio polacco che aveva annunciato l'uscita di Blood & Wine per il 7 giugno 2016 aveva smentito tale data, tutto era tornato nel campo delle ipotesi. A darci nuova speranza oggi è Amazon USA.
Seppur per pochi minuti, nella pagina del preorder di The Witcher 3: Blood & Wine veniva proposta come data di consegna il 27 maggio 2016. Qui di seguito vi mostriamo uno screenshot che un utente è riuscito a fare prima che Amazon rimuovesse il tutto.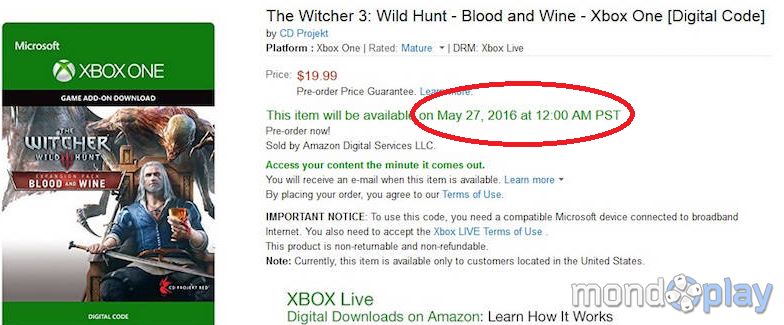 La data risulta molto credibile e, come ulteriore prova, vi ricordiamo che il 27 maggio cade di venerdì, giorno della settimana spesso associato alle nuove uscite in fatto di videogames.
Ovviamente non ne possiamo avere ancora la certezza assoluta, ma confidiamo che a questo punto CD Projekt RED tramite un comunicato ufficiale confermi o smentisca tale data.