Riapriamo la rubrica Outsiders. Questa volta vi darò le mie impressioni su Outland, gioco targato 2011, rilasciato solo in formato digitale per X-Box 360/PS3 e solo tre anni dopo per PC, sviluppato da Housemarque e pubblicato da Ubisoft.
Esiste anche una versione per Linux, ma venne rilasciata solo nel 2015.
Ma fatte tutte queste premesse, cos'è Outland?
Partiamo dalla storia. Il tutto è ambientato nel presente, un uomo aveva iniziato a sperimentare sogni e visioni del passato.
Tentò di prendere medicine per fermarlo, pensando che si trattasse di un problema medico, ma la medicina era inefficace; qui c'era qualcosa di più grande in gioco.
L'uomo decise di trovare uno sciamano per scoprire quale fosse il problema, cosa significassero questi sogni e visioni e per curarlo da loro.
Tuttavia, lo sciamano raccontò all'uomo le antiche storie di una battaglia 30.000 anni fa tra un grande eroe e le due Sorelle del Caos,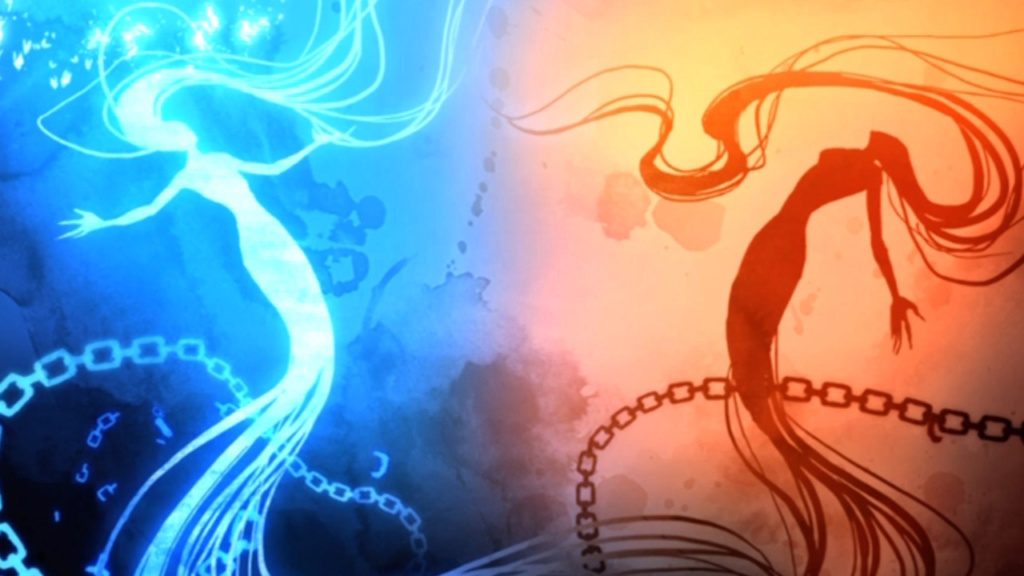 una che controlla la Luce dal Sole e l'altra che controlla l'Oscurità dalla Luna.
Le Sorelle furono imprigionate dopo la battaglia, ma l'eroe era perito nel processo. Lo sciamano informò l'uomo che era la reincarnazione dell'eroe e che le Sorelle del Caos sembravano sfuggire alla loro prigionia.
Quest'uomo era ora l'unico che poteva fermarli, e così andò avanti nel viaggio.
Noi quindi partiremo dalla capanna dello sciamano iniziando la nostra missione.
A livello di gameplay, Outland è un platform 2D con un'impostazione che, personalmente, nelle fasi un pochino più avanzate, ha ricordato molto anche gli shoot'em up.
Lo scopo del gioco è attraversare i vari settori della mappa, che si apriranno mano a mano che prenderemo determinati potenziamenti o sconfiggeremo i "boss di fine livello".
Il fulcro del nostro viaggio sarà il Crocevia del mondo,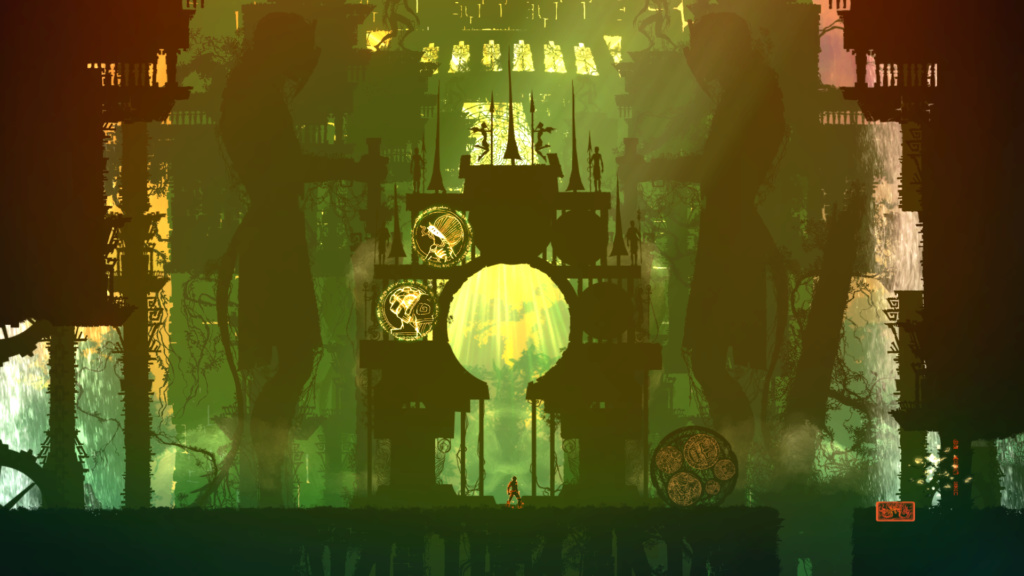 dove verranno segnati i nostri progressi, e che aprirà i passaggi per i prossimi livelli.
Il gioco strizza molto l'occhio ad un gameplay classico, che però mischia elementi interessanti e grande dinamismo nelle azioni che si svolgeranno.
Il nostro eroe, rappresentato da un'ombra di un uomo,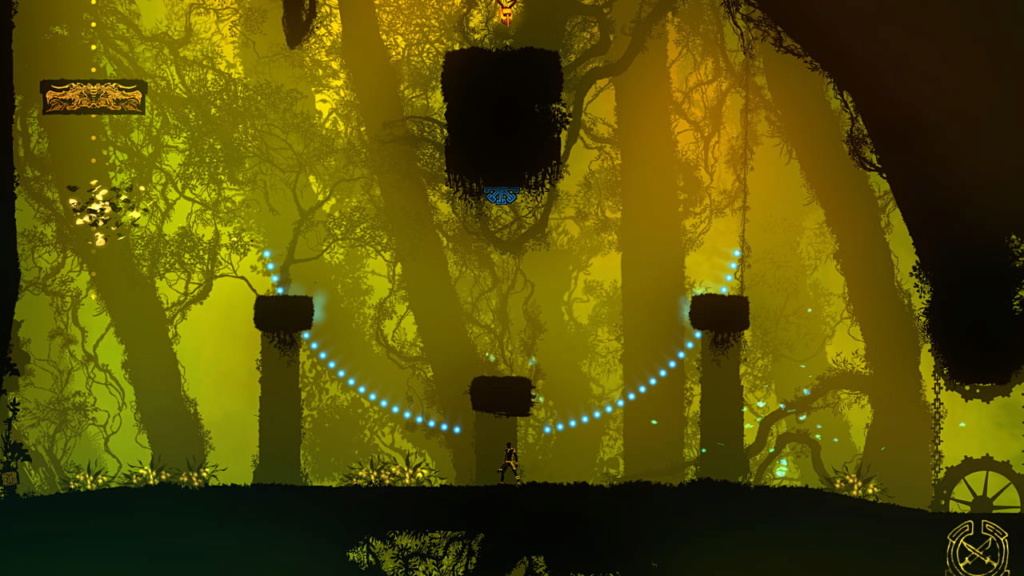 non avrà nome e non avrà una sua storia, forse per far immedesimare maggiormente il giocare.
I dialoghi saranno ridotti al minimo e limitati alla sola presentazione dei vari boss che mano a mano affronteremo.
L'eroe, come ogni platform moderno, dovrà acquisire vari poteri e abilità per poter proseguire la sua missione.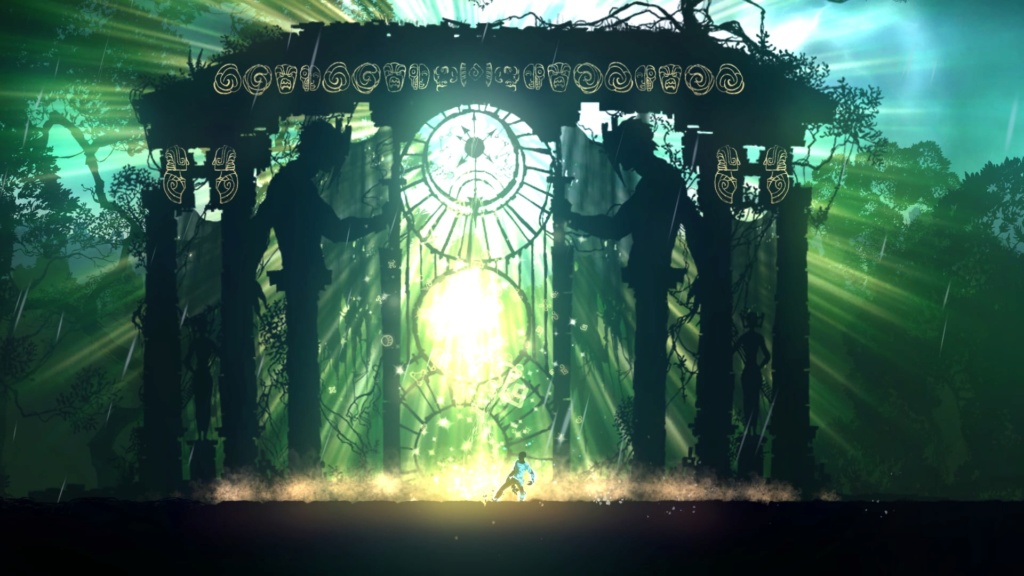 Essi spazieranno da mosse "canoniche", come le scivolate o le schiacciate a terra, oppure a nuove tecniche da usare in combattimento per sbarazzarsi dei nemici.
In questo senso il gioco ricorda molto quelli che io definisco i "Castlevania della seconda generazione", ovvero quelli iniziati con Symphony Of The Night.
Ma sicuramente la caratteristica peculiare di Outland è il potere luce e ombra.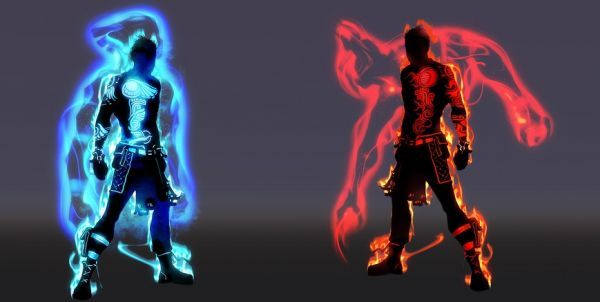 Nel primo terzo della missione il nostro protagonista guadagnerà due poteri contrapposti, che lo coloreranno di azzurro se starà utilizzando il lato luminoso e di rosso se userà il lato oscuro.
Non vi nego che in qualche modo, specialmente quando usa i primi, ha ricordato non poco un personaggio che ho amato nei telefilm, ovvero Automan.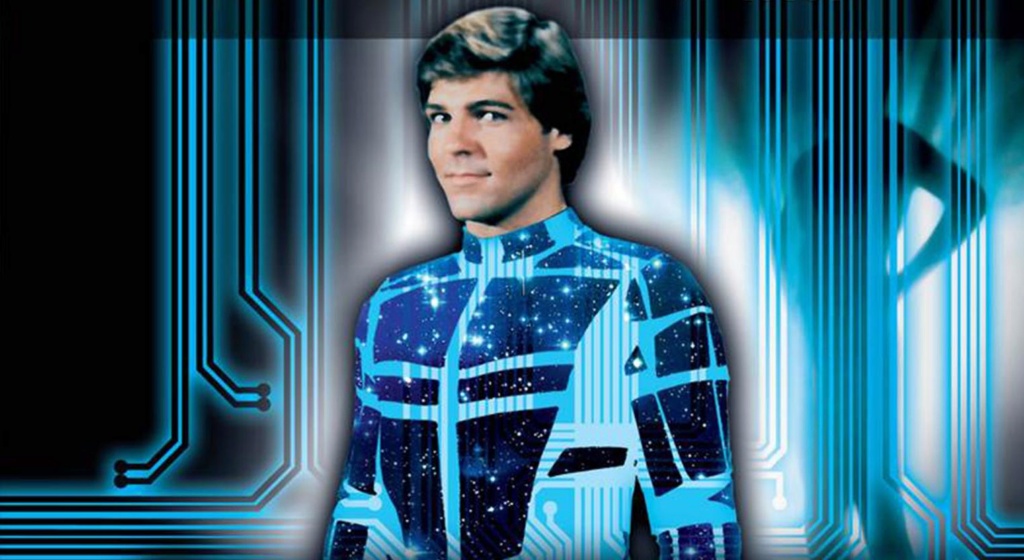 Ma se proprio vogliamo vederla giusta l'eroe ricorda il precursore del citato eroe digitale, ovvero i personaggi del film Tron.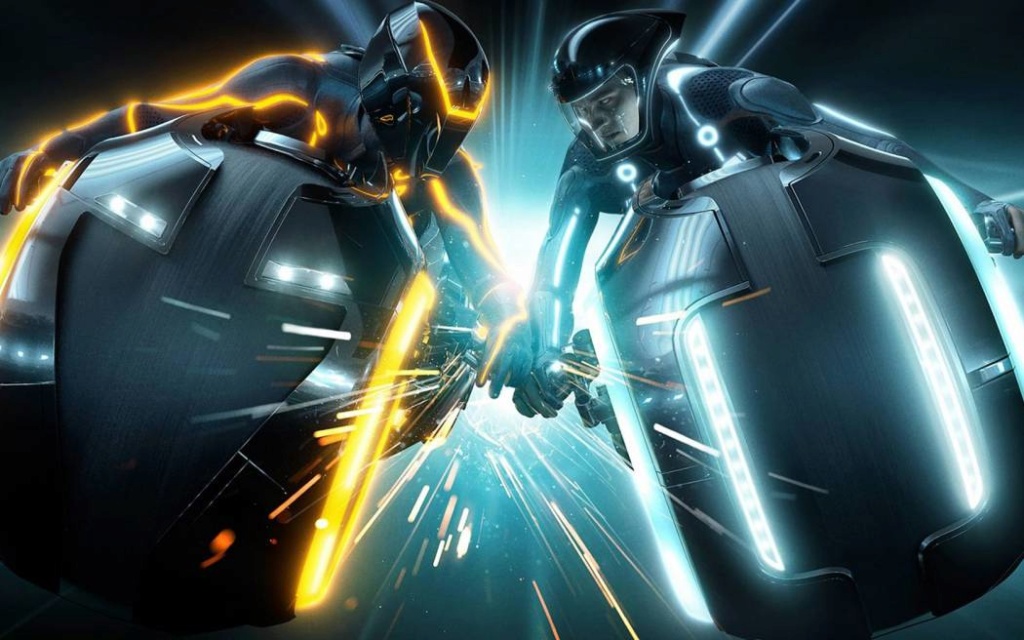 Una volta acquisiti i due poteri contrari e complementari, il gioco acquista un modo di affrontarlo sicuramente originale.
Infatti i nostri avversari, fin'ora neutri, acquisiranno anche loro le colorazioni blu e rosse. Questo cosa comporterà? beh se dobbiamo affrontare i nemici blu dovremo avere le "vesti" rosse e viceversa.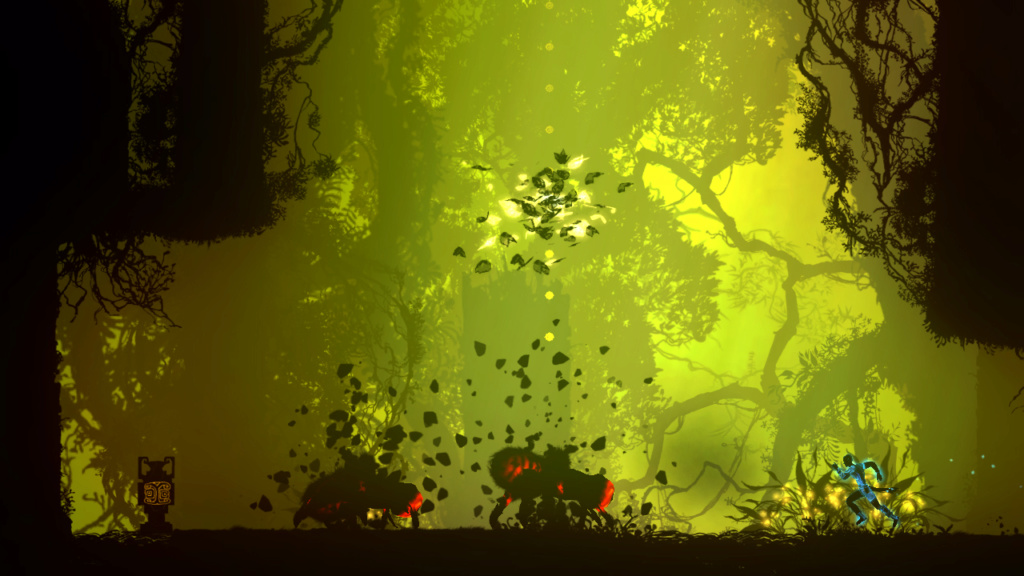 Questa modalità però non si limita ai soli nemici, ma anche agli ostacoli. Infatti troveremo muri,fontane, cannoni e via dicendo che prenderanno i due colori.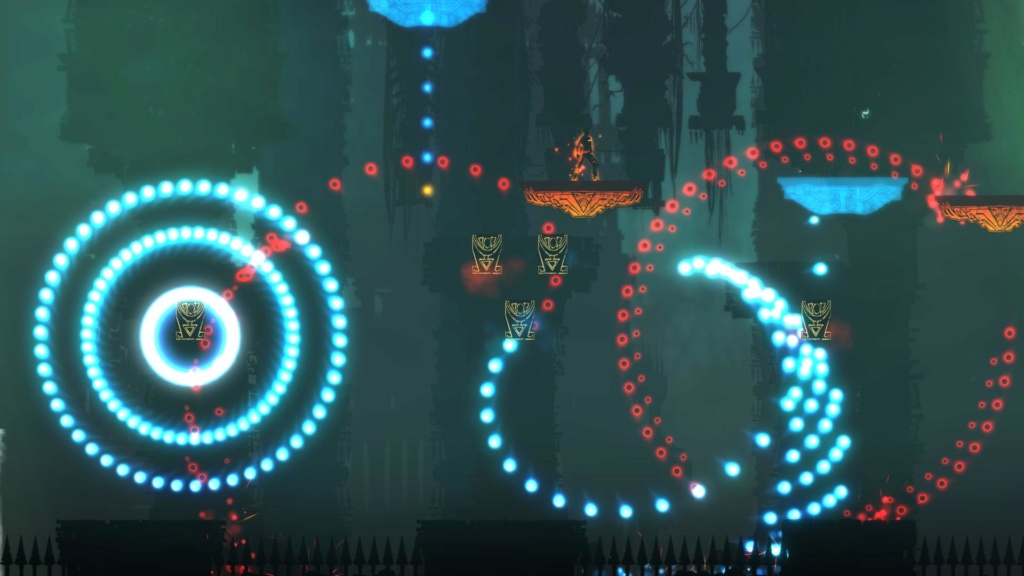 Ovviamente in questo caso il gioco sarà al contrario. Infatti saremo protetti se verremo colpiti da raggi del nostro colore, mentre subiremo danni al contrario.
Anche le piattaforme, muri e trappole si attiveranno se saremo in una modalità e si disattiveranno quando cambieremo forma.
Detta così sembra poca cosa, però vi assicuro che è una cosa tra il divertente e il frustante.
Come dicevo all'inizio queste fasi mi hanno ricordato molto delle fasi tipiche degli shoot'em up a scorrimento, specialmente a quelli "malati" pieni di uno stormo infinito di proiettili da evitare.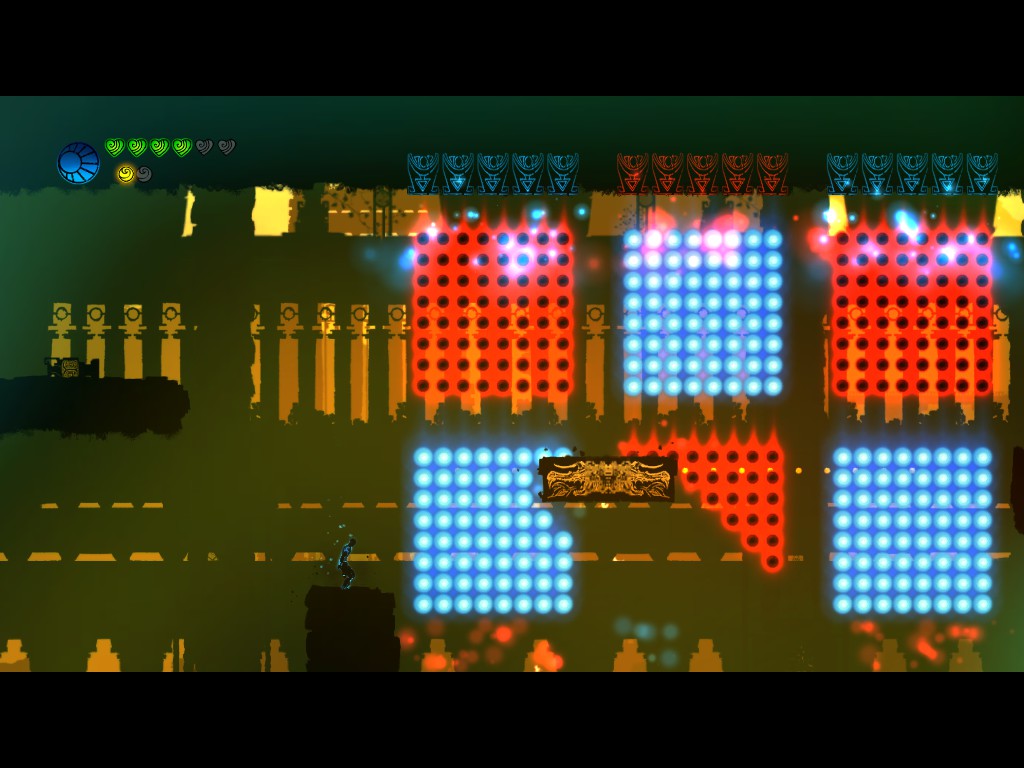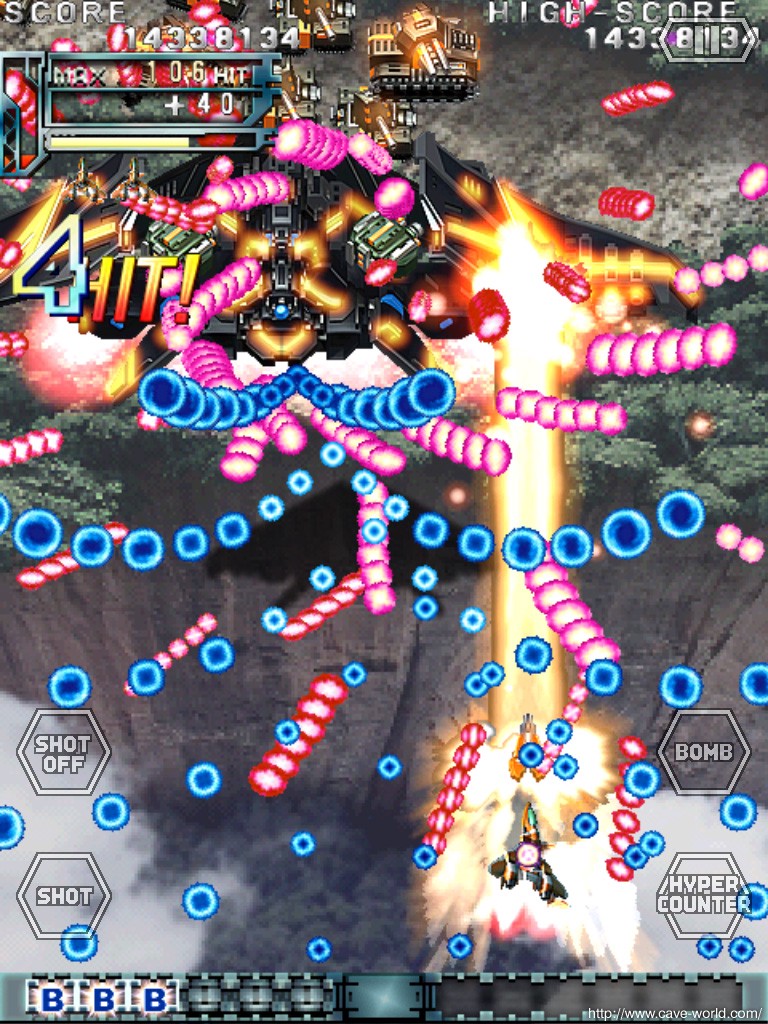 In Outland non siamo mai a questi livelli, visto che il cambio tra luce e oscurità aiuta, però in alcuni passaggi è complicato passare senza venir colpiti.
Nel corso del gioco troveremo delle zone dove potremo acquistare i classici "upgrade di statistica".
Infatti sganciando il "giusto compenso monetario" otterremo nuovi cuori che aumenteranno la nostra barra della vita, o nuovi punti abilità per le tecniche a energia.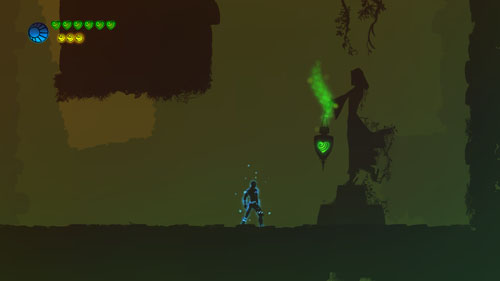 Il gioco personalmente è molto divertente. Un misto tra i vecchi platform tipici degli anni '90 con quel giusto mix di novità e svecchiamento del gameplay.
Purtroppo il gioco soffre di un problema che a volte può essere odioso. Infatti il protagonista è molto piccolo e a volte si confonde con lo schermo, per cui si perde momentaneamente il suo controllo.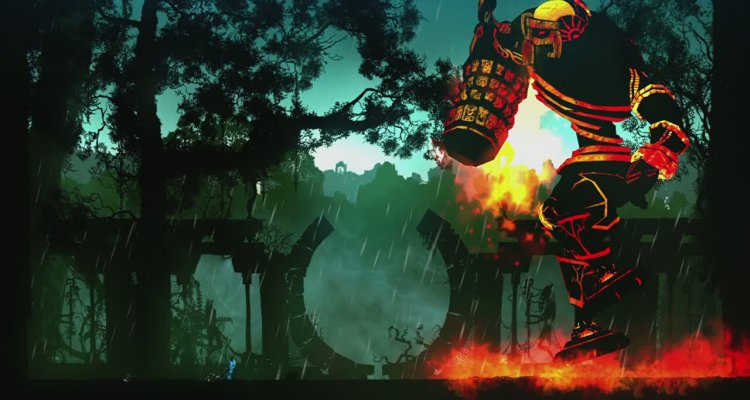 La difficoltà non è altissima e, escludendo i due boss finali, più ostici della media, e alcuni passaggi di alcuni schemi, il gioco è molto giocabile e godibile.
Sicuramente non è un gioco per tutti, visto che strizza più l'occhio ai vecchi giocatori più che alle nuove leve.
Va provato? si, sicuramente è un gioco da piazzare nei momenti dove si vuole avere qualcosa di immediato, senza troppi scervellamenti in storie intricate.
Sicuramente devo ringraziare il gold dell'X-Box per avermelo "regalato", sennò probabilmente avrei perso questo Outsider.
See you next
Videogiocatore di vecchia scuola.
Nella gloriosa console war tra Sega e Nintendo sempre schierato a fianco di Sonic e soci.