«…Benvenuti, non lasciatevi spaventare dalla mia voce calda e misteriosa. Per centinaia.. No, migliaia, no. Decine di migliaia di anni… In molti sono venuti da me in cerca di ciò che desideravano di più…»
Queste sono le parole del gioco di cui andrò a parlarvi oggi, ovvero The Cave, classe 2013, rilasciato per le maggiori piattaforme dell'epoca Steam, PlayStation 3 e Xbox 360 (solo in formato digitale), iOS, Android e Ouya (che probabilmente si ricorderanno in due visto il "grandissimo successo").
Il gioco è pubblicato da SEGA, sviluppato da Double Fine Productions e ideato da Ron Gilbert con la collaborazione di Tim Schafer.
Forse a qualcuno di voi suoneranno familiari i nomi di Ron Gilbert e Tim Schafer.
Beh non sono nientemeno che gli ideatori di alcuni dei capolavori Lucas Art, tra cui i primi due Monkey Island.
Per quanto The Cave non sia una nuova avventura grafica, ne riprende però l'idea di fondo di essere un gioco a rompicapi.
Sette personaggi in cerca del loro destino
La storia inizia con la presentazione dei 7 protagonisti della storia.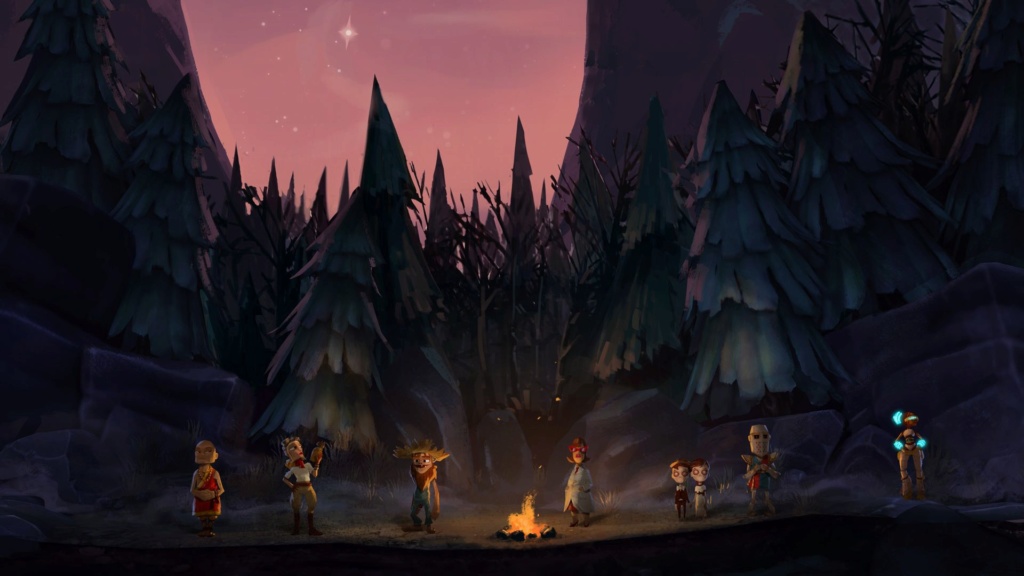 Ognuno di loro ha una sua storia personale e entra nella caverna per cercare di ottenere ciò che desidera.
Ogni personaggio ha una sua abilità peculiare che servirà per attraversare determinate sezioni della caverna.
Il sistema di gioco
La cosa che rende particolare il gioco è il suo sistema di "collaborazione dei personaggi".
Infatti a inizio partita dovremo prendere tre dei sette personaggi iniziali, o otto se contiamo che i gemelli sono in due ma contano come un unico personaggio.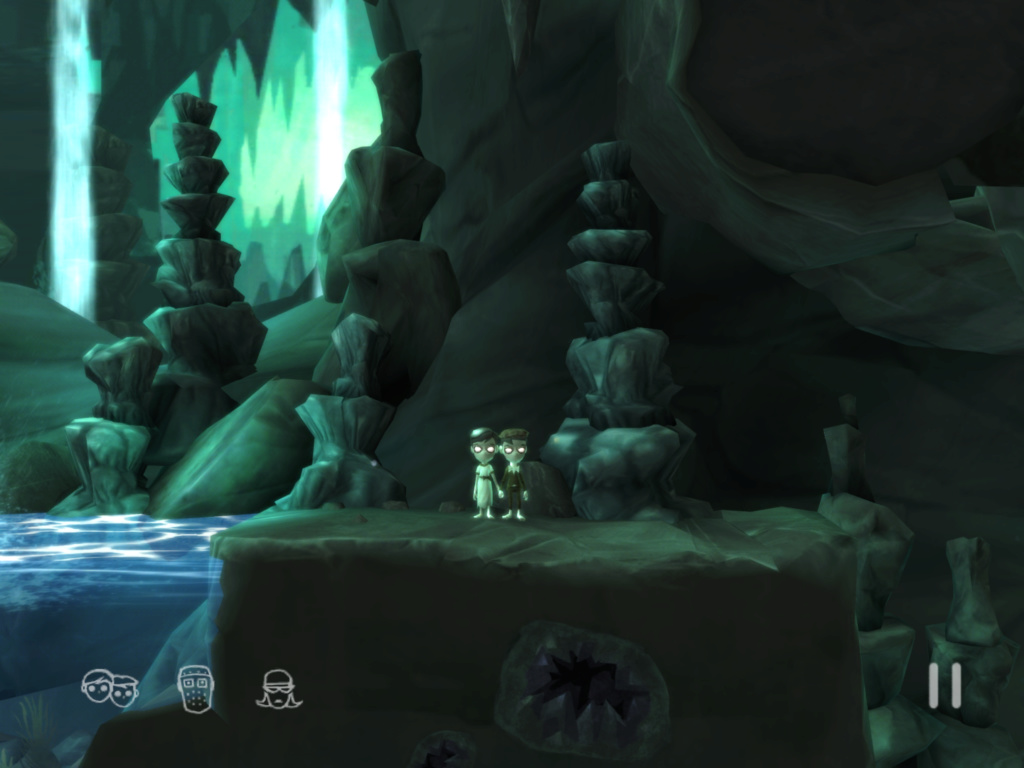 Addentrandoci nella caverna, per risolvere alcuni enigmi, sarà necessario "switchare" i vari personaggi e spostarli in determinate aree per poterli posizionare su interruttori o leve per permettere agli altri di proseguire.
Senza dubbio questo stile di gioco si è rivelato molto divertente e ingegnoso per creare enigmi collaborativi.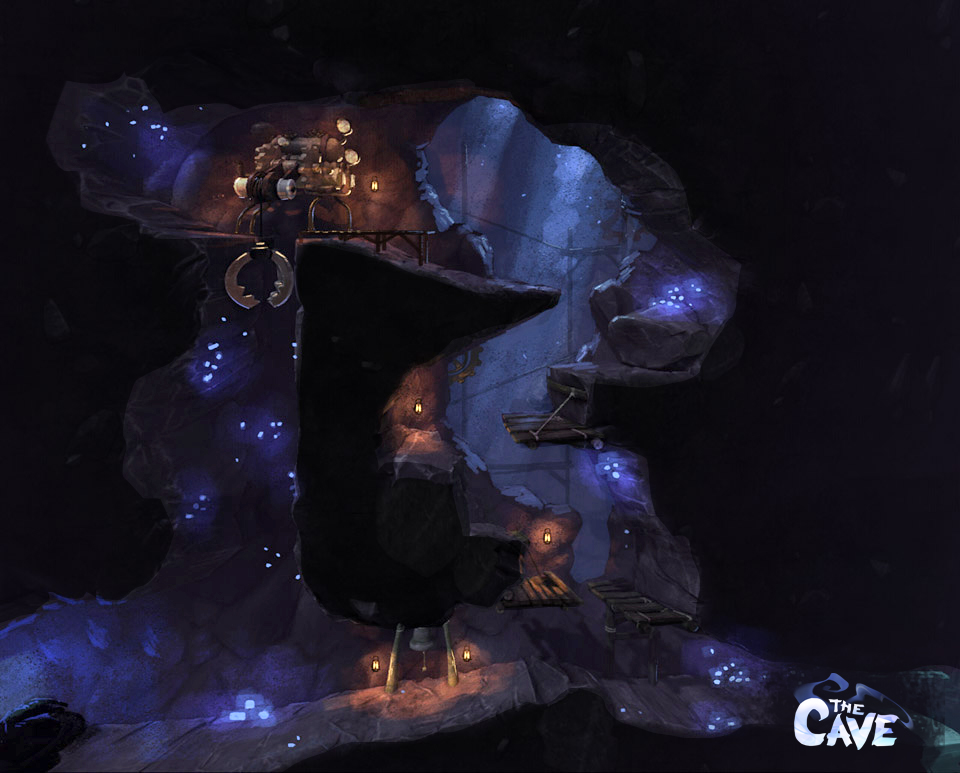 Una scelta particolare è quella di non poter far morire i protagonisti.
Infatti lo dirà la stessa Caverna, che non può permettersi di far morire i suoi ospiti perché sennò andrebbe in mezzo a beghe burocratiche, o qualcosa del genere.
Le sessioni della Caverna
La scelta del trio influenzerà parte della sessioni visitabili nella caverna. Infatti ci saranno alcune aree comuni che verranno visitate indipendentemente dalla squadra formata, e altre invece tematiche per i personaggi.
Se le prime serviranno da enigmi generici e saranno solo sessioni con rompicapi da risolvere, nelle tre aree tematiche, una per personaggio scelto, approfondiremo la storia dell'esploratore protagonista della sessione.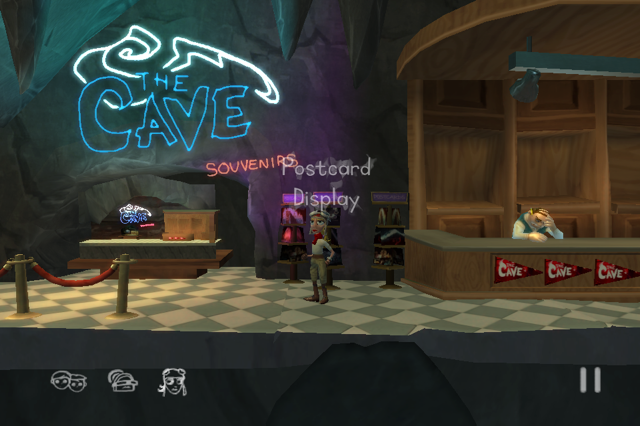 I dipindi della Caverna
Nel corso di tutto il viaggio incontreremo delle icone che rappresenteranno uno dei nostri eploratori.
Toccandole attiveremo un dipinto che rappresenterà una piccola parte della storia del protagonista rappresentato.
Parte del fascino del gioco è ricostruire tutta la storia che rivelerà il suo finale all'uscita di essa.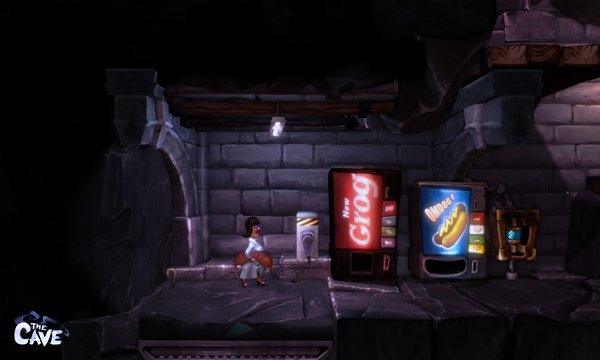 Le mie conclusioni
In definitiva The Cave è questo, un gioco ad enigmi dove dovremo ricostruire la storia dei sette protagonisti.
E' un gioco perfetto? sicuramente no. La cosa che ho sopportato meno è stata l'obbligatorietà di ripercorrere la Caverna 3 volte per ottenere le storie dei 7 protagonisti.
Il problema però non è stato nel ripercorre il gioco tre volte, visto che ogni volta si entrava in sessioni diverse non affrontate precedentemente.
Il problema è stato all'ultimo giro, dove, per forza di cose, uno solo dei tre esploratori era nuovo, mentre con gli altri eravamo già arrivati a conclusione.
Perché quindi non fare nove protagonisti invece che sette?
In fin dei conti sarebbero state aggiunte solo due sessioni in più, quelle specifiche del personaggio.
C'è stato chi all'epoca lo definì un gioco noioso.
Io onestamente così non l'ho trovato.
Forse gli enigmi sono abbastanza semplici da risolvere, non ho trovato grossissime difficoltà, anche se in un paio di casi sono dovuto ricorrere alle guide.
Secondo me un problema è il fatto che forse manca l'umorismo e un po' la follia delle situazioni tipiche delle vecchie avventure Lucas Art.
Una cosa che mi ha fatto molto pensare è il viaggio che intraprendono i nostri protagonisti.
Chiaramente qui finiamo nello

<SPOILER>
</SPOILER>
Veniamo al dunque.
Va provato? sicuramente non lo comprerei a prezzi esorbitanti.
Forse i 12,99 Euro di Steam sarebbero tantini, visto che un giro della Caverna dura tre ore a farla grande.
Su Google play si trova a 3,31 Euro, che è un prezzo più che onesto.
Magari provatelo sul vostro tablet e fateci sapere se vi è piaciuto.
See you next
Videogiocatore di vecchia scuola.
Nella gloriosa console war tra Sega e Nintendo sempre schierato a fianco di Sonic e soci.