Secret of Mana Remake: La nostra recensione
Secret of Mana, uno dei capolavori del genere JRPG dell'era SNES, è tornato in una nuova veste grafica su PC, PS4 e PS Vita.
Come sarà invecchiato il titolo che, nel lontano 1993, portò una ventata d'aria fresca al genere dei JRPG? Purtroppo devo anticiparvi che resterete delusi da come Square-Enix abbia gestito questo remake.
Per quanto riguarda la trama, possiamo dire che è rimasta sostanzialmente invariata rispetto al titolo originale e nonostante la narrazione non fosse uno degli elementi migliori del titolo per SNES, è da lodare la volontà degli sviluppatori di aggiungere diversi dialoghi aggiuntivi e scenette divertenti tra i personaggi.
La storia, per chi non la conoscesse, parla di un ragazzo di nome Randi che disobbedisce agli anziani del proprio villaggio e si avventura in terre proibite. Qui trova l'antica Mana Sword, spada usata da un eroe del passato per sconfiggere il male e ripristinare la normalità nel mondo, scatenando però la furia delle creature nei dintorni. Al villaggio gli anziani lo ritengono responsabile dei continui attacchi da parte dei mostri e lo bandiscono. Ha inizio così l'avventura di Randi, Primm e Popoi (altri due personaggi che si uniranno a lui in questo viaggio) verso gli 8 santuari di Mana sparsi nel mondo di gioco.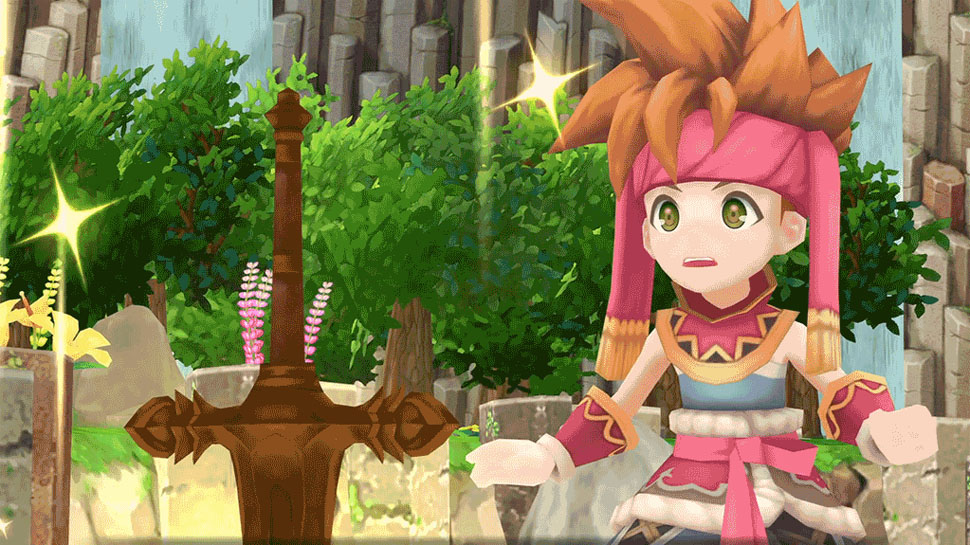 Anche sul lato gameplay il titolo è rimasto quasi completamente invariato.
All'epoca si era pensato ad un RPG non più a turni ma con una barra, simile all'ATB, utilizzata per determinare l'efficacia dei colpi e il danno inflitto ai nemici rendendo il titolo più action. La barra in questione è stata mantenuta nel remake ma è stato invece eliminato il sistema di combattimento a griglia, sostituito da un altro che consente di attaccare (ed essere attaccati) da ogni singola direzione. Lo schema tattico dei combattimenti perciò sara sempre caratterizzato da un attacco, una fuga per permettere alla barra di ricaricarsi, un nuovo attacco e così via. Purtroppo l'assenza di parry o schivate rende il sistema di combattimento piuttosto antiquato rispetto ai titoli che si vedono ai giorni d'oggi.
Ma passiamo al vero problema di questo Secret of Mana: l'intelligenza artificiale.
I giocatori avranno vita facile contro qualsiasi tipo di avversario, a meno che non si venga accerchiati da un gran numero di nemici, ma allo stesso tempo, dovranno stare attenti ai propri compagni che spesso si bloccheranno in alcuni punti dello scenario e durante i combattimenti si posizioneranno in modo tale da essere sempre esposti alle offensive nemiche. Per ovviare a questo problema, l'unica soluzione sembra essere quella di trovare due amici con cui giocare in co-op locale.
L'aggiunta della minimappa e della funzione di autosave sono una piacevole sorpresa, ma comunque troppo poco per svecchiare il titolo considerando che nei negozi non è possibile verificare se si dispone già di un determinato equipaggiamento e il boost alle statistiche offerto.
Il comparto tecnico è quello riuscito meglio, nonostante presenti diverse lacune.
Graficamente, il passaggio da sprite a modelli poligonali è ben riuscito, accompagnato da colori accesi e una buona illuminazione, che però rende il titolo più adatto alle console portatili che alle console di ultima generazione. Le animazioni sono carenti, in combattimento ma soprattutto durante le sezioni dialogate in cui purtroppo i personaggi resteranno sempre con la stessa espressione senza nemmeno aprire la bocca.
Per quanto riguarda il sonoro invece, il doppiaggio (il gioco non è stato localizzato in italiano) ha dato una piacevole aggiunta alla narrazione ed inoltre è stato deciso di riarrangiare l'ottima colonna sonora del titolo originale. Il risultato è piuttosto soggettivo e può piacere come può non piacere affatto. La buona notizia è che, per i fan di vecchia data, è possibile scegliere se ascoltare la colonna sonora attuale oppure quella originale.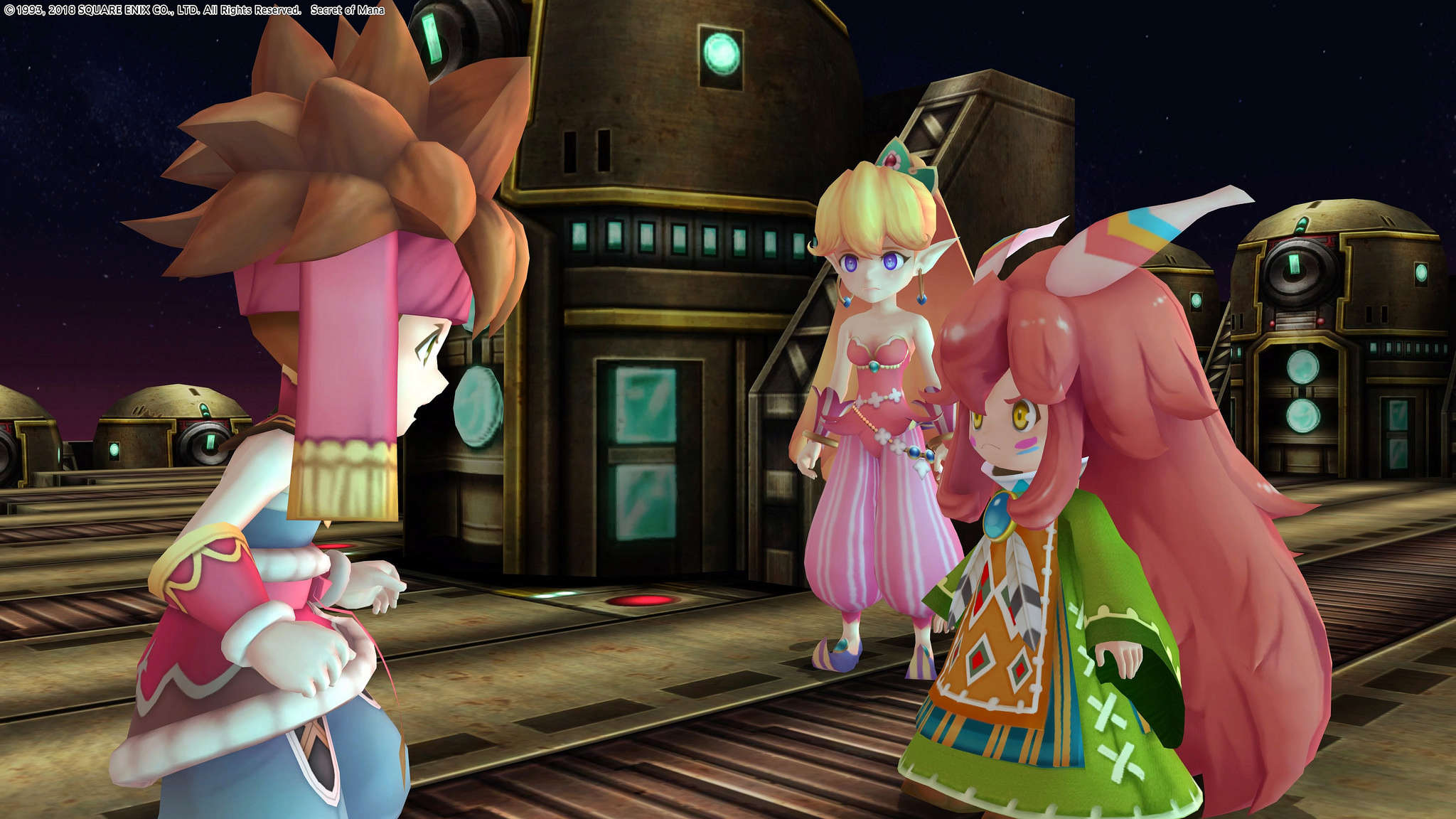 In definitiva, il remake di Secret of Mana non è un pessimo gioco ma il budget ridotto fornito da Square-Enix ha fatto si che gli sviluppatori non siano riusciti a rendere giustizia ad uno dei JRPG del passato più amati. I fan di lunga data purtroppo saranno dispiaciuti del fatto che il gioco, che tanto hanno amato da piccoli, non è invecchiato per niente bene.
Cresciuto con Crash Bandicoot e Pokemon.
Condivido la passione per i videogiochi con quella per il calcio e l'informatica.