The Witch and the Hundred Knight 2: La recensione
Nippon Ichi Software torna con un nuovo action RPG, The Witch and the Hundred Knight 2, sequel del titolo uscito in occidente nel 2014 su PS3 e nel 2016 su PS4 con la Revival Edition.
Avranno gli sviluppatori fatto tesoro delle critiche ricevute con il primo capitolo? Scopriamolo insieme.
Nell'action RPG The Witch and the Hundred Knight 2 vivremo un'avventura che non ha alcun tipo di legame con quella del primo capitolo se non per la figura dell'Hundred Knight, un burattino al servizio del suo padrone.
Il gioco è ambientato nelle terre di Kevala, afflitte dal Witch's Disease, una malattia dalle origini sconosciute che colpisce i bambini a cui fa apparire un terzo occhio sulla fronte. Qualche tempo dopo essere stati infettati, il terzo occhio si apre e nel corpo del malcapitato si risveglia una potente strega malvagia.
Si parte subito con le due sorelle Amalie e Milm che vengono esiliate dal proprio villaggio dopo che la sorella minore, Milm, inizia a mostrare i primi sintomi della malattia. Poco tempo dopo infatti nel corpo della piccola si risveglia la strega Chelka che a sua volta evoca l'Hundred Knight dando vita alla bambola che Milm portava sempre con sé.
Amalie, convinta di poter trovare una cura per la sorellina, decide di arruolarsi tra le Holy Valkyrie del Weisse Ritter, un'organizzazione che si occupa di combattere le streghe e le loro maledizioni ma più si avvicina alla soluzione e maggiori sono gli imprevisti che le impediscono di salvare la povera Milm, tra tutti le scorribande di Chelka che col tempo acquisisce sempre più consapevolezza del proprio potere.
In tutto ciò, il giocatore vestirà i panni di Hundred Knight che nel corso dell'avventura passerà più volte sotto il controllo di Chelka e Amalie e le aiuterà durante le loro missioni.
Piccola, ma potentissima, questa creatura magica è in grado di equipaggiare fino a 5 armi tra swords, hammers, staffs, lances and spears per dare vita a combo sempre più potenti e variegate ma anche cambiare in corsa tra 3 delle 6 "Facets" disponibili, ovvero le build per determinate tipologie di attacchi e armi oppure con specifiche abilità offensive o difensive.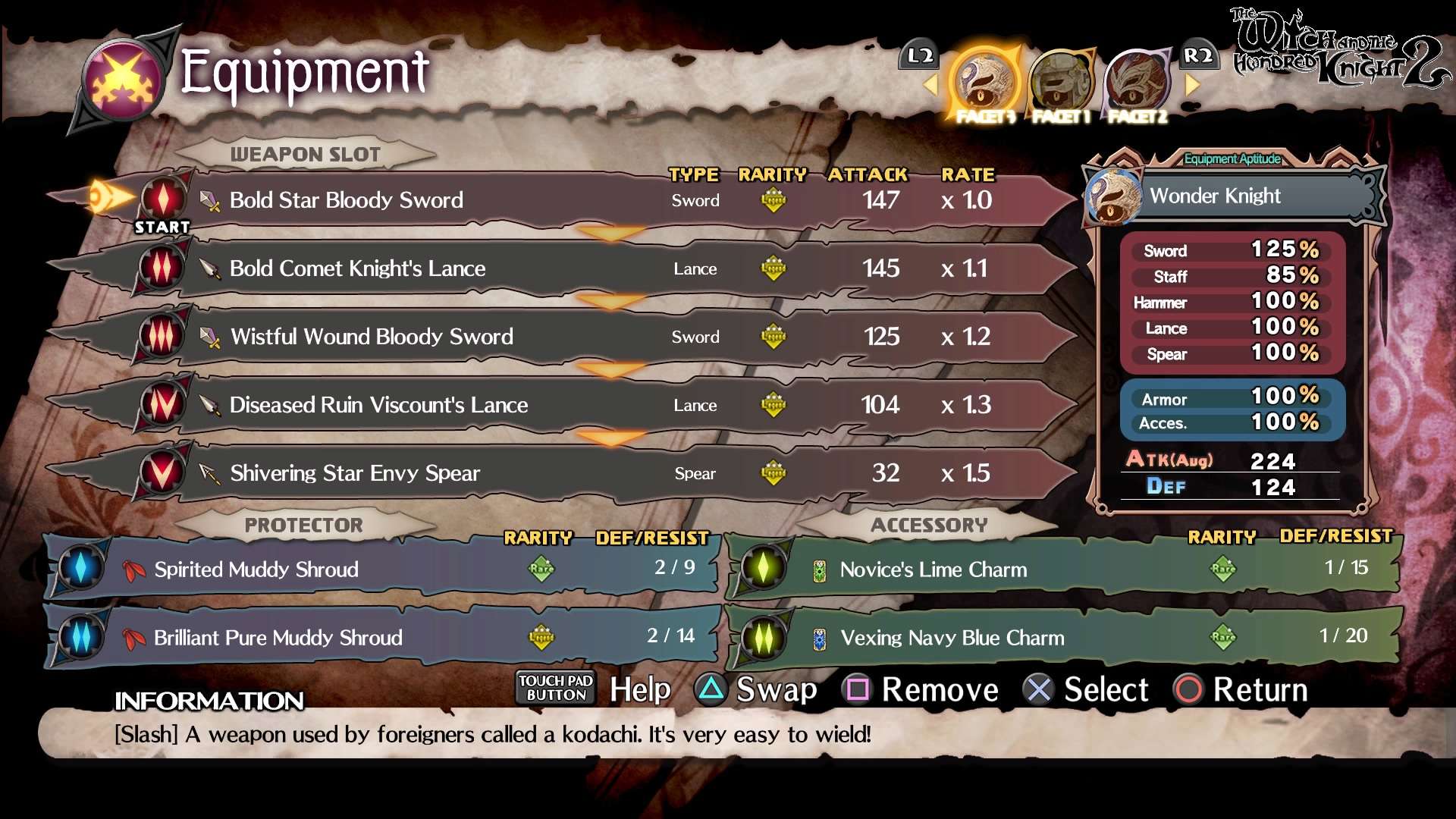 Il mondo di gioco è suddiviso in stage grossomodo lineari con alcune barriere magiche che impediscono di proseguire in determinate aree a seconda dei progressi nella storia ed enormi fiori di mana che, una volta sbocciati, fungono da punti di salvataggio ed anche come portali per i viaggi rapidi verso gli altri fiori. I nemici sono tutti presenti a video e non esiteranno ad attaccarci quando ci troveremo nelle loro vicinanze ma spesso ci ricompenseranno droppando oggetti ed equipaggiamenti. Ad eccezione dei consumabili, gli oggetti raccolti però non possono essere subito usati ma vengono depositati nello stomaco di Hundred Knight, la cui capienza aumenta salendo di livello, e verranno aggiunti al nostro inventario solo completando lo stage oppure tornando al castello, residenza delle due sorelle.
Attenzione a non morire però. Terminando gli HP, Hundred Knight tornerà all'ultimo checkpoint, consumando parte della sua energia, ma perderà alcuni oggetti random tra quelli contenuti nel suo stomaco.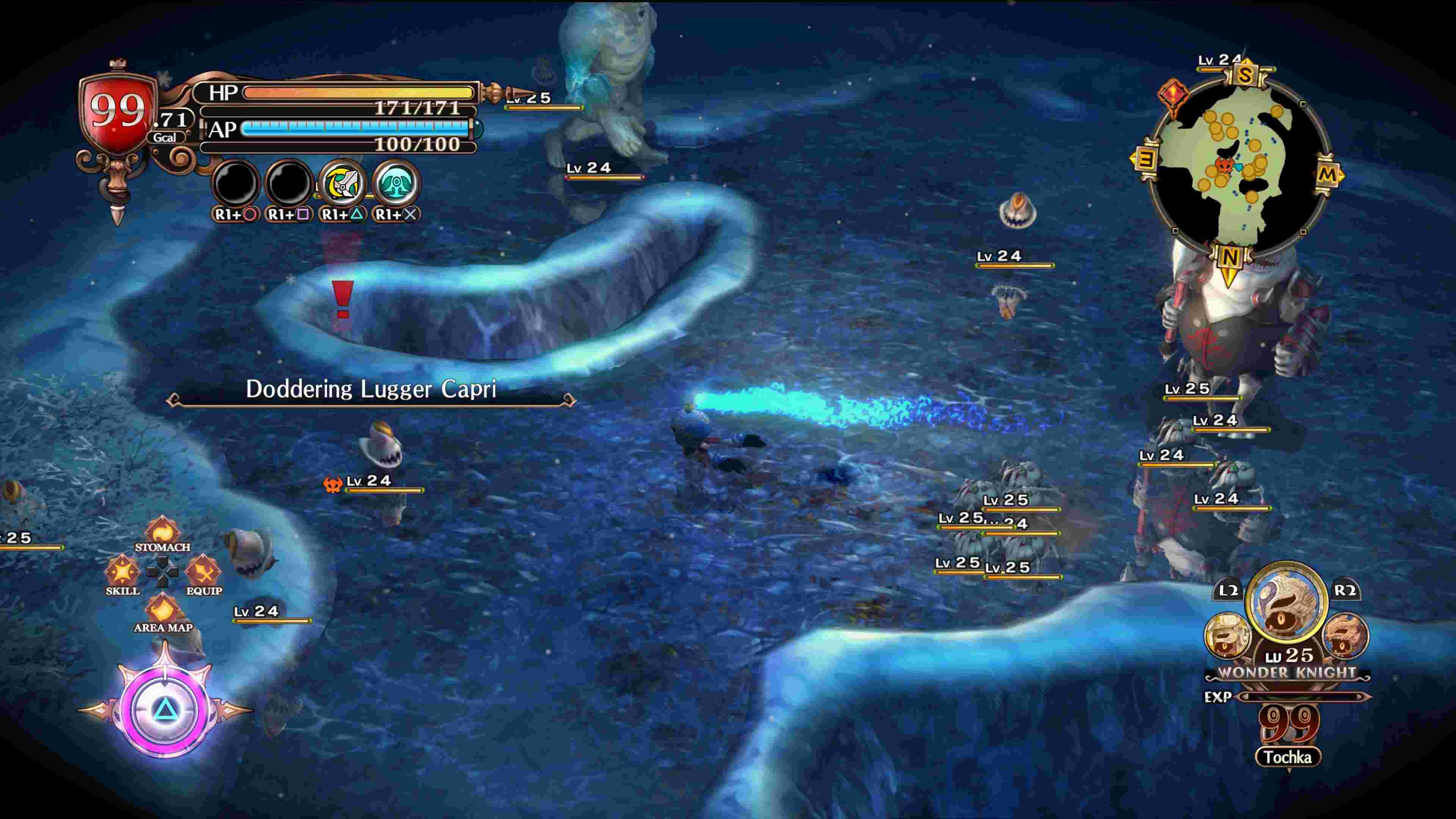 L'energia di cui vi parlavo poco fa è chiamata GigaCals (o GCals) e rappresenta l'energia a disposizione del nostro alter ego per eseguire movimenti e attacchi durante lo stage in corso. Una volta terminate tutte le GCals a disposizione, il nostro personaggio diventerà debole e, se termineremo sia le GCals che gli HP, si andrà incontro al Game Over.
Esiste però un modo per ricaricare le GigaCals che non prevede l'utilizzo di consumabili, ovvero mettere a segno un attacco speciale chiamato "Depletura" attivabile dopo aver completato con successo una combo da 5 colpi.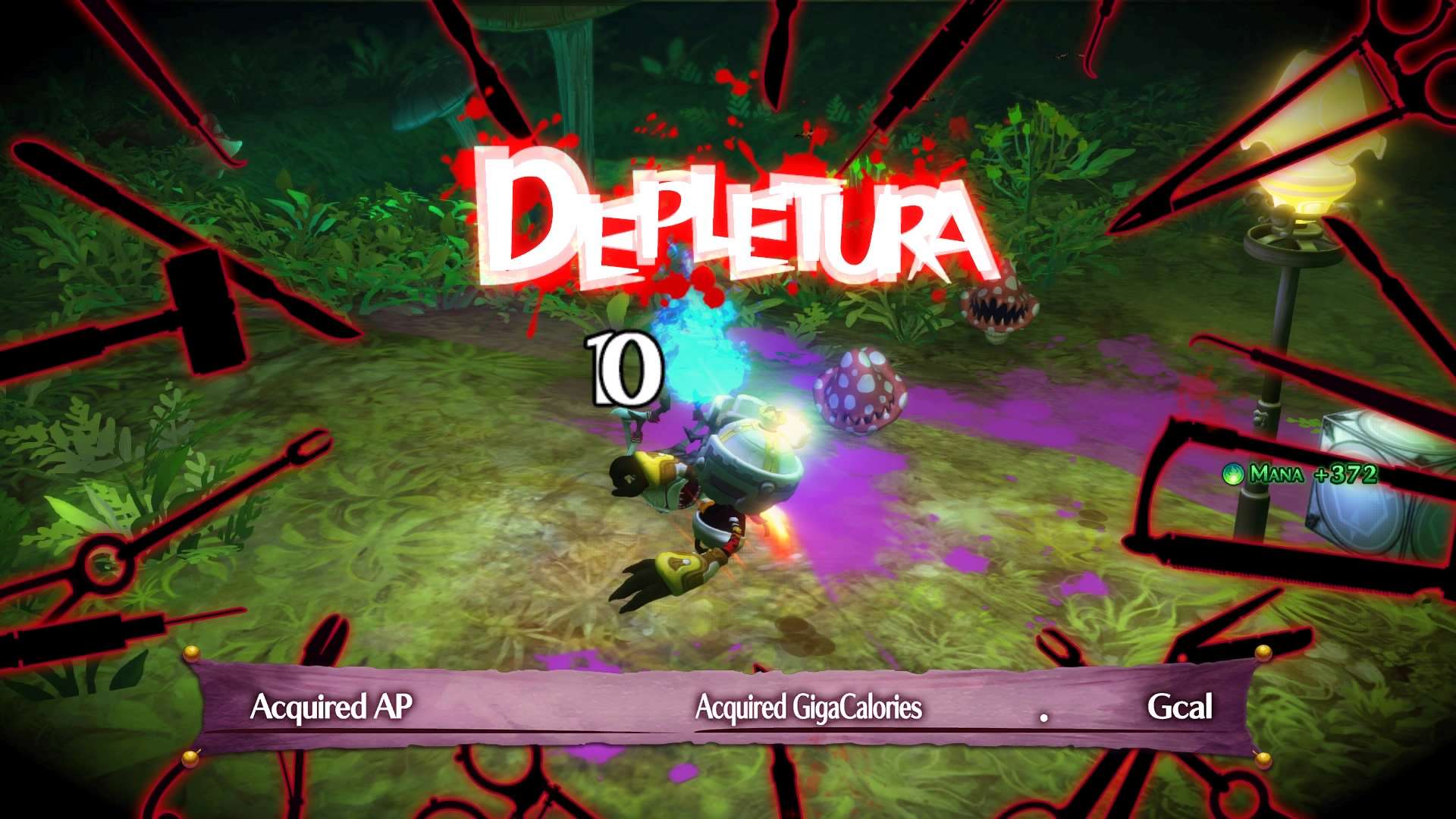 Per proseguire tra i livelli, che devo dire non eccellono in originalità sia per quanto riguarda la struttura che per i nemici che vi troveremo all'interno, non potremo fare affidamento solo sulle nostre abilità e sulle armi rare che saltuariamente verranno droppate dai nemici ma dovremo spesso recarci nell'Atelier all'interno della nostra base per potenziare armi ed equipaggiamenti con un sistema di crafting semplice ed immediato. Un altro aiuto che ci viene offerto per completare gli stage, poi, sono i Tochkas, piccoli ma devastanti minions che possiamo evocare sul campo di battaglia per un breve lasso di tempo.
Dopo aver descritto tutte le funzionalità principali di The Witch and the Hundred Knight 2, andiamo a scoprire quali sono le caratteristiche che più ci hanno colpito e quali invece ci hanno lasciato perplessi.
Il sistema di combattimento è senza dubbio l'elemento meglio riuscito del gioco che, con le 5 tipologie di armi e i Facet intercambiabili a seconda delle situazioni, offre un'elevato grado di libertà per i giocatori.
Se poi siete amanti del dark humor spinto fino ai suoi eccessi e al nonsense, tipico dei titoli Nippon Ichi Software, apprezzerete la caratterizzazione dei personaggi anche se la narrativa è risultata l'anello debole di The Witch and the Hundred Knight 2 con dialoghi, rappresentati in stile visual novel, veramente molto lunghi che spezzano il ritmo di gioco.
Il livello si sfida poi è relativamente basso, perché una volta appresi i pattern e le debolezze dei nemici (boss compresi) basterà assegnare ad Hundred Knight le armi migliori e passare da una Facet all'altra nel momento più opportuno della battaglia per avere la meglio contro qualsiasi nemico.
In conclusione con The Witch and the Hundred Knight 2 il lavoro di Nippon Ichi Software è riuscito a metà: le modifiche al sistema di combattimento lo hanno reso stimolante ed appagante ma deve fare i conti con stage e nemici che nella sostanza rimangono invariati e una narrativa scadente che non riesce a dare quella spinta in più al titolo.
[maxbutton id="1″ url="https://www.yessgame.it/evento/the-witch-and-the-hundred-knight-2/" ]
Cresciuto con Crash Bandicoot e Pokemon.
Condivido la passione per i videogiochi con quella per il calcio e l'informatica.